11.1 Managing Child Deaths
The following policy outlines the Norfolk & Waveney procedures for the implementation of processes outlined in Regulation 6 of the Local Safeguarding Children Board Regulations 2005, Chapter 5 of Working Together to Safeguard Children 2018 and Child Death Review Operational Guidance (England) October 2018.
This policy should be followed by professionals in conjunction with all relevant policies, procedures and protocols from within their own agencies.
This chapter was revised and updated in January 2023.
1. Introduction
1.1. Scope
The policy applies to the death of any child under 18 years or where there is reason to believe they are likely to be under 18 years old, whether from natural, unnatural, known or unknown causes, at home, in hospital or in the community and whether expected or not. It includes children who normally reside in Norfolk and Waveney, who may have died abroad or in other areas of the country.
Stillbirths and deaths resulting from planned termination of pregnancy carried out within the law are excluded from this process.
All deaths will be subject to a child death review by the Child Death Overview Panel (CDOP) in either Norfolk or Suffolk.
The disclosure of information about a deceased child is to enable the the Child Death Review Partners and other partner agencies to fulfil statutory requirements related to child deaths.
The policy is based on statutory guidance as referenced at the end of this policy and includes:
1.2. Key principles
To ensure a thorough, systematic and sensitive approach is undertaken to establish, as far as possible the cause(s) of the child's death focusing on history, examination and investigations, and to identify any potential contributory and modifiable factors.
To ensure bereaved families are offered optimal support during a traumatic time, and that sensitivity is maintained alongside objectivity toward the cause/s of death.
To ensure the safety, wellbeing and welfare of siblings, any other children associated with child, and subsequent children.
Gather information for the Child Death Review Process.
To preserve evidence.
To identify and share learning.
1.3. Categories of death
This policy covers all categories of childhood death, including:
Unexpected deaths from natural causes and from external causes (accidents, homicide, suicide);
Expected deaths.
1.3.1. Unexpected death – Pathway One – see flowchart below
This would include:
An unexpected death is defined as the death of an infant or child (who had not yet reached their 18th birthday) which:

Was not anticipated as a significant possibility for example, 24 hours before the death or;
Where there was an unexpected collapse or incident leading to or precipitating the events which led to the death. (Working Together to Safeguard Children, 2018) This is especially relevant when there is a significant time delay between the collapse of the child and their eventual death.
Joint Agency Response, (JAR), should be triggered if a child's :
is or could be due to external causes (including suicide, accidental, trauma);
is sudden and there is no immediate or apparent cause:
occurs in custody, or where the child was detained under the Mental Health Act:
where the initial circumstances raise any suspicions that the death may not have been natural; or
in the case of a stillbirth where no healthcare professional was in attendance.
In any of these circumstances, the on-call health professional, police investigator, and duty social worker should be contacted immediately to hold a tripartite discussion to agree the joint agency response.
NB: SUDI/SUDC (sudden unexpected death in infancy/childhood). This encompasses all cases in which there is death (or collapse leading to death) of a child, which would not have been reasonably expected to occur 24 hours previously and in whom no pre-existing medical cause of death is apparent. This is a descriptive term used at the point of presentation and will include those deaths for which a cause is ultimately found ('explained SUDI/SUDC') and those that remain unexplained following investigation.(RCPCH 2016)
1.3.2. Expected death
An expected death is defined as the death of an infant or child which was anticipated following on from a period of illness that has been identified as terminal, and where no active intervention to prolong life is ongoing.
It is expected that children with a life limiting or life-threatening condition will die prematurely although, it is not possible to anticipate when, or in what manner they will die.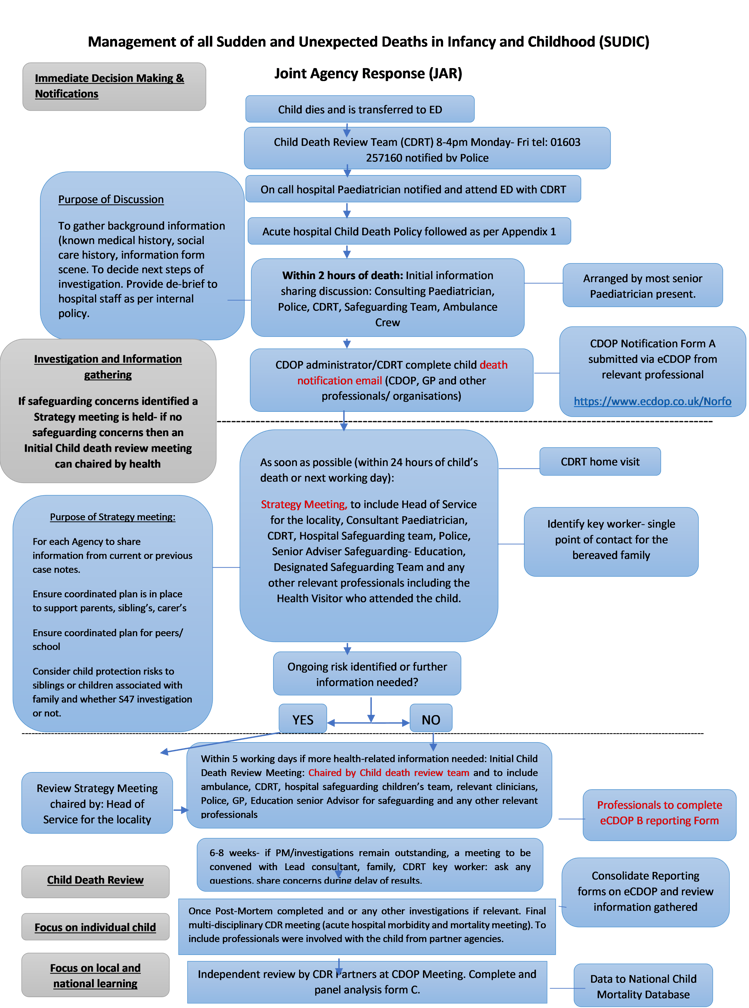 1.4. Initial response to an unexpected child death at home (other)
On receipt of a call regarding a dead or moribund child the ambulance control centre should contact the Norfolk police control room on 101 to inform them.
The police initial responders should attend the scene, assess if there are any suspicious circumstances and deal with the death, in-line with sudden unexpected death police policies and procedures.
The police control room should inform the MASH police/Children's Advice and Duty Service (CADS) who will undertake multi-agency information sharing and checks on family and siblings.
Ambulance service, police and other professionals attending the scene should attempt resuscitation unless clearly inappropriate (see below*) and the child should be transferred to an emergency department prior to their death being declared.
*Where resuscitation is clearly inappropriate, the death can be declared at the scene by an appropriately qualified professional but the child should still be transported directly to the local emergency department.
Every effort should be made to preserve the scene of the death/collapse pending the joint Police and Child Death Review team visit. Information about the scene and any concerns about the death will be written in the report which the Child Death Review Team will share with Pathologist and Coroners Officer. This information will also be shared during the initial meeting whether strategy, convened by Social Care, or Health, chaired by the Child Death Review Team key worker.
All professionals in attendance should record, using standard agency processes and forms, the circumstances of how the child was found and any information provided by the parents/carers or surmised from their actions, appearance or living conditions that may be of help in explaining the circumstances of the child's death/collapse. (This information should be provided to the CDR Team/CDOP and Police).
If the child is declared dead at the scene, the professional declaring the child's death is responsible for identifying anything about the death which gives cause for concern or suspicion.
Examples of circumstances where it may not be immediately appropriate to transfer a child to the emergency department are:

because scene of crime officers needs to complete their work.
if the child has obviously been dead for 'some' time and there is evidence of decomposition;
the circumstances of the death mean the child's body must remain at the scene for forensic examination; or
there is significant trauma to the child's body as a result of fire or other major incident.

For an unexpected death, the declaring professional will be the most senior clinician on site normally or if necessary a paramedic.
1.5 Deaths due to Road Traffic Collisions
The child's body should be transported to the emergency department (as per all unexpected deaths) unless the Senior Road Traffic Officer considers the trauma is such that it would be inappropriate under these circumstances will be taken directly to the mortuary.
A joint agency response must be triggered, and the Senior Road Traffic Officer should inform the Child Death Review Team of the child's death. If there are life threatening injuries but the child does not die at the scene the senior investigating officer should consider triggering a joint agency response and discuss the case with the Child Death Review team.
1.6. Unexpected child death in a hospital setting
For an unexpected child death in a hospital setting hospital staff should work in accordance with hospital procedures based on national guidance (Initial assessment of an infant or child (under 18 years) presenting unexpectedly dead or moribund). The Child Death Review team must be contacted. It should be considered whether the death will be subject to a joint agency response.
Areas of the hospital who admit adolescents aged 16–up to their 18th birthday must be aware of the Child Death Review processes, ED and Adult Critical Care Complex in particular.
1.7. Initial assessment on arrival ED
Examination
On arrival at a hospital, the initial examination of the child should be undertaken by the most senior paediatrician available (ST4 or above) with the lead police investigator present. All hospital staff should work in accordance with the Clinical Guidance for Management of Sudden Unexpected Death in Infancy and Childhood (SUDIC). This is standardised guidance across the three Norfolk acute hospital trusts.
1.7.1. Kennedy samples
As soon as possible after the death (or if child is in extremis). Kennedy sampling is statutory (parental consent not required) and should be taken in accordance with the acute hospital SUDIC policy. (Police do not have to be present to complete this as it is a statutory process and any delay in obtaining samples and acting on unexpected results may impact on agencies' ability to safeguard other children and other crucial decisions.)
1.7.2. Initial in Hospital conversations with parents/carers
Best practice is for the Lead Consultant, Child Death Review nurse and senior police officer to do this together. Parents will feel very vulnerable and the importance of the history being taken by an experienced professional with knowledge and understanding of the care of children and sensitivity to the needs of the family is paramount.The purpose of the initial meeting is to collate information prior to the home/ scene visit.Parents/carers should have:

Opportunities to hold their child.
Have relatives or friends contacted if requested.
Opportunity to collect mementos, such as a lock of hair, photograph, hand, and footprints.
Be given details of relevant support agencies and a copy of When a Child Dies: A guide for parents and carers NHS England booklet.
Parents/carers should be provided with the opportunity to ask any questions that they have at this stage and should be told they can refer future questions to a keyworker.
A key worker may be identified at this stage if possible or by the next working day in the initial child death/strategy meeting.
1.7.3. Immediate information sharing and planning discussion (within 2 hours of death)
Information sharing and planning discussion should take place before the family leave the emergency department. This will be co-ordinated by the most senior paediatrician present. Decisions should be recorded in the child's records.
At a minimum this discussion should include the senior consultant paediatrician, lead police investigator, a representative from children's services (CADS/EDT) and in working hours the Child Death Review nurse and the hospital safeguarding team and ambulance crew if still present. The lead police investigator should ensure that children's social care have undertaken background checks prior to this meeting if a social work representative is not available.
The purpose of the meeting is to gather background information and make a decision whether the case meets criteria for a joint agency response (JAR) and if so when to undertake joint police and child death review team home visit if it meets criteria (see criteria above at 1.3.1.).
The joint agency response should also be triggered if the child is brought into hospital near death, is successfully resuscitated but expected to die in the following days, this includes from a road traffic accident. Information gathering through multiagency discussions at the point of presentation rather than post death will facilitate a more accurate history of events that may explain the child's subsequent death.
The future involvement of professionals including the Police, Children's Services, the Child Death Review Team and other professionals who know the family who will be invited to the initial multiagency review or S47strategy meeting (if significant safeguarding concerns) that day or the next working day.
1.7.4. Skeletal surveys
For most children under the age of two a skeletal survey should be undertaken, if there is any suggestion of a suspicious cause of death. Consideration should also be given to undertaking a skeletal survey for children over this age, when circumstances are suspicious, i.e., of non-accidental injury. The survey will be undertaken to inform the post-mortem. If it is suspected that the child has been subject to non-accidental injury and there are other children in the household who may be at risk and waiting for the post-mortem could lead to unacceptable delay (more than 24 hours), a discussion with the coroner and the radiology department should take place to consider undertaking the survey on-site within working hours.
1.7.5 Clinical photography
Consideration should always be given, where possible, to the taking of photographs of the child's body for the purposes of informing future discussion regarding the cause and time of death. Photographs should be taken and stored, and consent obtained in accordance with agreed hospital trust and police procedures.
1.7.6 Care of child's body and personal items
Any clothing removed from the child and any items of clothing or bedding brought in with the child should be retained by the police and should not be returned to the family without the agreement of the coroner. The child's body should not be cleaned as this may interfere with the pathologist's investigations; however, the child may be wrapped in a clean blanket. The reasons why they have not been cleaned should be explained.
1.8  Post death discussions with parents/carers
Where a child's death had been expected but their life limiting condition is as a result of a non-accidental injury, discussions should/should have taken place between the police and the family/carer regarding the need for SUDIC investigations. This will include an agreement on the timings of police involvement, the method of the introduction and the explanations that should be offered to parents or carers in advance of the death.
1.9 Notifications
1.9.1 Notifying the HM coroner
1.9.2 Notifying the CDOP administrator
The notification of child death should be completed using the following link: https://www.ecdop.co.uk/NorfolkSuffolk/Live/Public after the initial discussion and within 48 hours of the child's death. The notification is the responsibility of all professionals and must be done by anyone with the relevant information. It is better to have more than one notification. It is submitted to the CDOP administrator whose responsibility it is to inform the wider NHS and partner agencies.
This should include if relevant:
Child Death Review Team
Ambulance personnel
Coroner's officers
Child health information department (CHIS)
GPs. Child's and Parents (sometimes registered with different practices)
Tertiary consultants who treat the child
Healthy Child Programme
Midwives
Mental health professionals
EACH
Community Nurses and therapists
Continuing Care Team
Other physicians and surgeons
Social workers
Probation officers
Police officers
Education settings
Safeguarding – Education Quality Assurance & Intervention Service
Critical incident team (education)
Early years workers
Youth Justice Service officers
The Learning Disabilities Mortlity Review (LeDeR) Lead
Adult Safeguarding Adult Team
1.9.3 Notifying the acute trust safeguarding team
The hospital safeguarding team of the acute hospital should be notified by hospital staff when the child is admitted to ED as soon as possible. The hospital and designated safeguarding team should be notified all child deaths within the hospital.
1.10 Visit to the scene of the death and home visit
This visit will be undertaken by the police officer and CDRT within 24 hours, preferably before the formal strategy discussion to provide information to that discussion. Arrangements to undertake the visit will involve discussions with the parents/carers and/or other appropriate persons (e.g. house or premise owner) if the death did not occur in the family home.
1.11 Child death Multi-agency meeting (within 1 working day of the child's death)
Where a death is unexpected, consideration should be given as to who should lead the multi-agency child death meeting /discussion. This should only be convened under Section 47 of the Children Act 1989 if there are significant safeguarding concerns otherwise this meeting will be chaired by the Child death review team.
The following should be considered to invite:
Children's Services
Police
Ambulance service
Lead consultant paediatrician
Child Death Review Team
Paediatrician or representative if under clinical service (JPH, QEH, NCHC, NSFT, West Suffolk, Ipswich, Suffolk community services, consider tertiary units).
Hospital Safeguarding Team
Senior Adviser Safeguarding – Education Quality Assurance & Intervention Service
The child's GP
Designated safeguarding children's team (Designated Dr CDR or Designated Dr/ Nurse safeguarding)
0-19 service (Cambridge community service)
Any other relevant professionals involved with the child and family
On conclusion of this meeting:
1. The family's key worker should be identified if not already agreed.
2. A decision when the next meeting should be convened.
3. The membership of the initial meeting confirmed
4. Provision of support to bereaved family.
5. Whether there is further information to be sought
1.12 Post-mortem (PM)
Where appropriate, the coroner will order that a PM is undertaken. Completion of Post Mortem through to the final written report can be a lengthy process and families should be made aware of this.
If after the initial post-mortem examination a complete and sufficient cause of death is found, then this will be given as the cause of death.
Post mortem results are highly confidential. The coroner should share this with the child's clinician as well as the family.
On completion of the final This should be with the child's clinician. Prior to this meeting, parents have a right to have a copy of the report, however, this will contain sensitive and emotive information. It is good practice that this report be fed back to the family's by the Consultant Paediatrician involved with the case together with the relevant CDR team case worker.
2. Further Child death review meeting (within 5 working days of the child's death)
For the majority of SUDI's, there will be a child death review meeting chaired by the CDR team or Children's Services. In some circumstances it is helpful to have a further meeting that the CDR Team will convene in the next week if there is more information to share or to gather.
2.1 Final child death review meeting (6 to 8 weeks after the child death)
The child death review team will meet with families depending on their needs after the child's death. Prior to the final CDR meeting the families will be asked whether they have any outstanding questions and if required the Child Death Review Team Key Worker can convene an additional meeting with relevant professionals. One of the key needs of parents is for information and this is often not a one off event, but rather an ongoing process.
2.2 Follow up Bereavement meeting with parents/carers
The final review meeting will be held on receipt of the investigations relevant to each case, i.e: Serious Investigations, PM results and Safeguarding Practice Group reviews. This meeting may have different names including mortality review meeting, review strategy meeting or child death review meeting. Attendees should include professionals involved in the care of the child, including children's social care, police, ambulance, education settings, early years, health, voluntary sector and anyone else identified throughout the review.
The meeting will ensure key agencies come together to review support for the family, consider best practice, provide feedback to those involved both professionals and most importantly the family.
3. Expected death – pathway two – see flow chart below
The review of expected deaths now falls under the same statutory guidance as for unexpected deaths.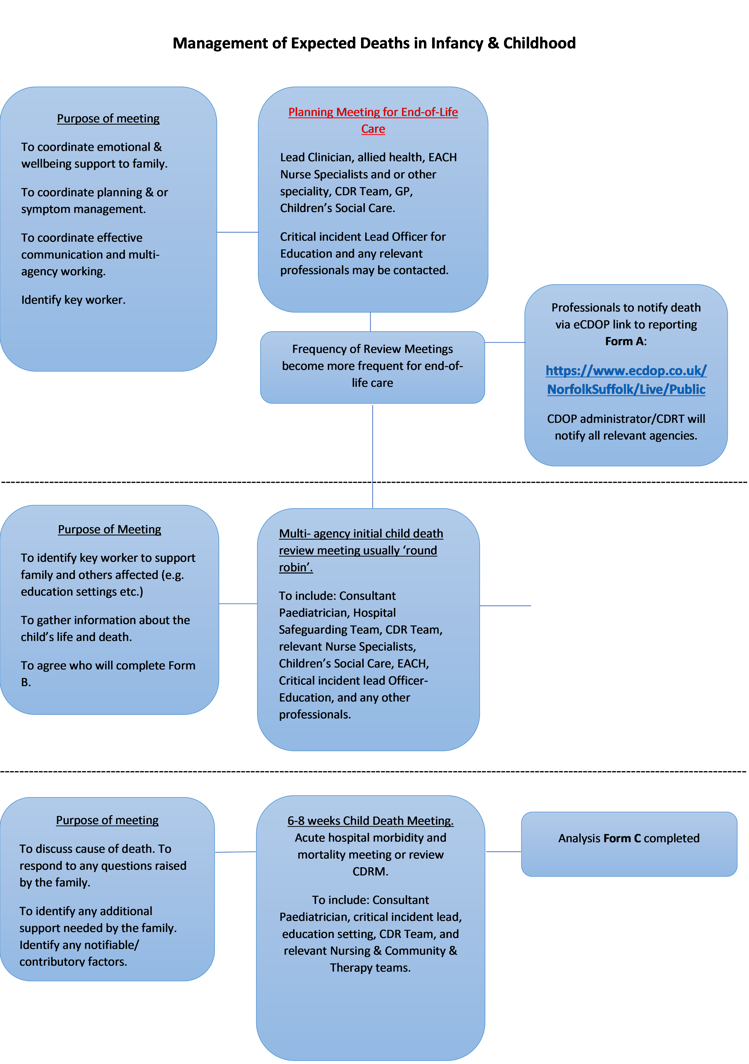 3.1. End of life care planning meeting preceding the child's death
The Child Death review Team should be involved with any child identified with a life limiting condition in a timely manner when they are identified as being in the end-of-life phase.
The aim of the regular multi-disciplinary meetings (MDT), is to plan the support and care for the family up to the end of life.
The purpose of the meeting should be to coordinate care of the child and family, to ensure appropriate symptom management, develop an end-of-life care plan including resuscitation plans and to coordinate communication and liaison with other professionals such as ambulance etc.
This information should be completed on RESPECT documentation.
3.2. Initial response to an expected child death at home, a hospice or a hospital
The child may be declared dead in situ and will not normally be resuscitated or transferred to an A&E department. Death may be verified by a trained professionals such as an EACH nurse/clinical nurse specialist or GP.
Ambulance and police will not attend an expected death unless suspicious circumstances are identified.
It is the responsibility of the GP/other professional declaring the death of a child to make a notification if required, to the coroner. It is important that GPs and other medical professionals are aware of the causal history of the child's medical condition prior to completing a Medical Certificate of Cause of Death (MCCD). If necessary, the child's consultant paediatrician should be contacted for advice.
Professionals need to refer to end of life plans, particularly if the life limiting condition is a result of injury sustained earlier in childhood. In these cases, the plan should include coronial and police engagement.
The GP, the local East Anglia Hospice or other declaring professional is responsible for notifying the death to the CDOP administrator by completing the online notification form using the following link: https://www.ecdop.co.uk/NorfolkSuffolk/Live/Public . The coroner's office should check with the CDOP administrator that a notification has been submitted by the GP or other declaring professional.
3.3 Initial information gathering and sharing meeting (as soon as reasonably possible, guidance suggests the first week)
When a child is expected to die there will have been regular multi-disciplinary meetings (MDT) prior to the death. After the child dies the relevant professionals will be invited to contribute to virtual initial information sharing process debrief '' unless an MDT meeting date coincides with the death. The virtual meeting should be convened by the lead professional. It is important to try to coordinate these meetings when a child has been known to several different clinical settings. One organisation should take the lead and invite all others to this meeting to share information both clinical and social. This will enable better information sharing and review of the child's holistic care.
If there have been no planned MDTs, then an initial child death review meeting should be arranged as soon as possible to discuss the case as above
The purpose of the meeting is to coordinate support to the family, coordinate information sharing, identify who could complete Reporting Form B or agree time for its completion, coordinate support and debrief to the team involved in the care of child, coordinate notifications to other organisations.
On conclusion of this meeting a final child death review meeting date should be considered if felt necessary.
3.4. Child death review meeting: 6 to 8 weeks after the child's death
The timing will depend on when the MDT had already planned to meet within the 6 to 8 weeks following the death. There may not need to be two meetings if the initial meeting has gathered sufficient information. The meetings may be undertaken at either the original referring hospital or tertiary hospital who provided care should be coordinated. This usually is held as the hospital Morbidity and Mortality meeting.
Clear guidance has been provided regarding the purpose and structure of these meetings in accordance with the Child Death Review Statutory and Operational Guidance, 2018. This meeting will provide an in-depth discussion regarding the child's death and events leading up to it. This meeting will also inform discussions with parents. This meeting is an ideal opportunity to identify issues and/or learning from practice and discuss modifiability. The findings of this meeting should be captured electronically in a draft Analysis Form C using the eCDOP software.
3.5. Meeting with parents/carers after the child death
The lead professional will offer to meet with the parents/carers 6-8 weeks after the child's death. The purpose of the meeting will be to respond to the family's questions or concerns and identify any additional support required by the family and to discuss the cause of death.
4. General guidance
4.1 Serious incident procedures
In addition to following the processes outlined in this policy in respect of child deaths all agencies should also follow their nationally and locally agreed procedures for reporting and handling serious incidents. This includes serious childcare incidents, serious untoward and patient safety incidents.
Where notification of an incident results in a local or external review or investigation being undertaken the results of these investigations should be made available to CDOP and will be used to inform the child death review. The findings of the Child Death Review process and CDOP cannot be finalised until these reviews are concluded.
4.2 Safeguarding Practice Reviews (SPR) previously known as Serious Case Reviews
Safeguarding practice reviews are statutory reviews conducted by Local safeguarding children's partners (LSCPs) when a child has died, and abuse or neglect are known or suspected to be factors within that death.
If at any stage in the review of a child's death information arises that suggests that the above circumstances apply, then the CDOP administrator should be alerted who will then liaise with the relevant partner(s) regarding referring the case for consideration of an SPR.
4.3 Child Death Overview Panel (CDOP)
All child deaths are subject to a multi-agency review by the CDOP. The review at CDOP will take place following the completion of all other investigations. The purpose of the CDOP is to review information on all child deaths to inform local strategic planning, identify any modifiable/ contributing factors and consider any lessons to be learned.
CDOP provides independent scrutiny of each child death from a multi-agency perspective and differs from the child death review meeting in that the information is anonymous and the panel is made up of senior professionals who have not been involved in the case.
CDOP has a specific responsibility to consider whether each death falls into a category whereby a serious practice review would be a requirement and, if they identify a case to refer, to consider why this has not been done previously.
Any professional who becomes aware of a death of a child which they believe has not already been appropriately notified should contact the CDOP administrator and complete a notification using the following link: https://www.ecdop.co.uk/NorfolkSuffolk/Live/Public.
Notifications should include children normally resident in Norfolk who may have died abroad or in other areas of the country.
4.4. Cross border issues
Children dying in Norfolk & Waveney who are not normally resident in Norfolk & Waveney
Children normally resident in Norfolk & Waveney dying elsewhere
Following the initial response and on receipt of a death notification for a child not normally resident in Norfolk & Waveney, the CDOP administrator contact with their counterpart for the area where the child is normally resident. An agreement should then be reached on who should take the on-going responsibility for the review. Liaison should occur between the relevant designated professionals to inform this decision making.
Should a child normally resident in Norfolk & Waveney die elsewhere in the UK it is expected that contact will be made with the Norfolk CDOP administrator by the local CDOP manager for the area in which the child died. Information will be obtained as to the rapid response that has already been undertaken by that area and of the circumstances of the death. A decision will be made by the CDOP administrator in conjunction with the designated professional and the other partnership regarding the transfer of review of the case to Norfolk of Suffolk. The CDOP administrator should make the necessary arrangements to obtain the relevant records and paperwork.
Should a child normally resident in Norfolk & Waveney die abroad the NSCP will be reliant on any professionals becoming aware of this death to notify the CDOP administrator. Decisions will be reached on a case-by-case basis by the designated doctor for child deaths or designated professional as to how the reviews for these children should proceed. Relevant professionals should make efforts through the normal channels to obtain information from foreign authorities as to the circumstances of the death and feedback to the child death review process via the CDOP administrator.
In the case of the death of a looked after child, the safeguarding partnership for the area of the local authority looking after the child should exercise lead responsibility for conducting the child death review, involving other LSCPs with an interest or whose local agencies have had involvement as appropriate.
4.5. Consideration of transplanting organs
In cases where a child's death is within a hospital and is controlled (i.e. imminent death is expected following the withdrawal of life sustaining treatment such as mechanical ventilation), organ donation should be considered. Organ donation is possible in children following a controlled circulatory death and in those certified dead using neurological criteria (i.e. completion of brain stem death tests). This includes all children from 37 weeks corrected gestational age.
Limited organ and tissue donation may also be possible in unexpected and expected deaths, after cardio-vascular death. Senior paediatric professionals involved should consider discussing this possibility and arranging a meeting for the family with the organ donation team and this must be discussed with the Coroner.
Referral is made via a 24 hour pager (0207 166 6922) to the on call Specialist Nurse – Organ Donation (SNOD). The SNOD will assess suitability, approach the family if appropriate and coordinate the donation process. Refer to NICE Guideline 135 organ donation for transplantation: improving donor identification and consent rates for deceased organ donation, and local hospital organ donation trust policies.
4.6 Databases and Record Systems
Professionals receiving the child death notification should ensure databases and record systems are updated to record the child as deceased. This will ensure that communications and mailings such as appointment letters are not received by families.
Health professionals must notify the child health information department (CHIS) on 0300 303 2676.
The information provided from the completion of Notification (Form A), Reporting (Form B) and Analysis (Form C) will be stored within the eCDOP software and data will be submitted as per statutory requirements to the National Child Mortality database.
5. Appendices
Appendix 1 – Managing Child Death Policy Contact Numbers
Appendix 2 – Sudden Unexpected Death in Childhood (SUDIC) - CDR Team
Appendix 3 – When a child dies: a guide for parents and carers. NHS England
References
HM Government (2017) Child Death Review Statutory Guidance. London.
HM Government (2018) Working Together to Safeguard Children. London.
National Institute for Health and Care Excellence (NICE) (2016) Organ donation for transplantation: improving donor identification and consent rates for deceased organ donation. NICE. London.
Parliament (1989) Children Act. The Stationary Office. London.
Parliament (2004) Children Act. The Stationary Office. London
Parliament (2007) Mental Health Act. The Stationary Office. London.
Royal College Pathologists and Royal College of paediatrics and child health (2016) Sudden Unexpected death in infancy and childhood: Multi-agency guidelines for care and investigation. London.
The Society and College of Radiographers and The Royal College of Radiologists (2017) Radiological investigation of suspected physical abuse in children. London.
---